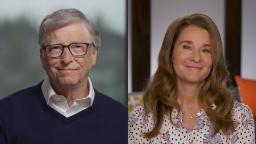 «After a great deal of thought and a lot of work on our relationship, we have made the decision to end our marriage,» the statement reads.
«We have raised three incredible children and built a foundation that works all over the world to enable all people to lead healthy, productive lives,» the statement says. «We continue to share a belief in that mission and will continue our work together at the foundation, but we no longer believe we can grow together as a couple in this next phase of our lives.»
Melinda Gates filed a petition for divorce in King County, Washington, on Monday, asking a judge to dissolve the marriage based on the couple's separation contract. No financial details were included in the publicly available documents.
They met shortly after she joined the company in 1987, at a business dinner in New York.
She described the encounter in her book, «The Moment of Lift:» «I showed up late, and all the tables were filled except one, which still had two empty chairs side by side. I sat in one of them. A few minutes later, Bill arrived and sat in the other.»
The couple married in Hawaii in 1994.
Melinda Gates is also the founder of investment firm Pivotal Ventures, which confirmed the couple's separation.
«We ask for space and privacy for our family as we begin to navigate this new life,» the pair said in their statement Monday.
The Bill and Melinda Gates Foundation did not immediately return a request for comment from CNN Business.